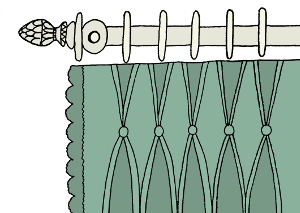 Beautifully handmade soft furnishings
Collecting Personal Information
We may collect, store and use personal information such as name, address, telephone number(s) and email address(es) which you provide to us either in person or via telephone, email or our website contact form.
We use appropriate physical, electronic and business procedures to store this information securely. Our website does not use cookies to collect information. Our website provider uses tracking technologies which provide limited statistics, such as the number of page views and unique visitors but does not include any personal information.
Using & Retaining Personal Information
The personal information you give us will be used and stored only to provide quotations, complete orders and charge for goods or services as agreed between us. We do not undertake mail shots, email campaigns or other marketing activities. We only retain enquiry/order information for record-keeping purposes as required for running the business.
We do not sell personal information to any third party. We may share your information with trusted third parties as necessary for us to comply with law or to conduct our business, such as to arrange delivery of goods or services ordered by you.
We do not collect or store any credit or debit card information. In the event that you provide us with your bank details, for instance for a refund, they will be deleted as soon as the refund has been processed.
Security of Personal Information
We take reasonable technical and organisational precautions to prevent the loss, misuse or alteration of your personal information. We cannot guarantee the security of data sent over the internet or that a data breach will never take place. Should we become aware that a data breach has occurred, we will notify those involved in a timely and appropriate way so that they can make sure protective measures are taken.
Third Party Websites
Our website includes details of, and links to, third party websites. We have no control over and are not responsible for the content, activities, privacy policies or practices of these third parties or their websites.
Your Rights
You may ask us to provide you with, change or delete the personal information we hold about you at any time. We will take reasonable steps to verify your identity before granting access or making corrections.
Please make requests via email to enquire@s-sewing.co.uk
Consent and Amendments
By using our website, you consent to our Privacy Policy. We may amend or update this policy from time to time by publishing a new version on our website.
Updated April 2018