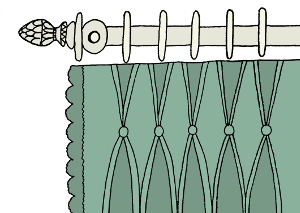 Beautifully handmade soft furnishings
I have a collection of sample books from various suppliers which offer a wide range of colours and designs. If you have already chosen a fabric I can advise on how much you require to complete a given project.
Follow the links below to view some of the fabric ranges I can supply:
As a finishing touch, you may want to add a trimming or tieback to your curtains and blinds.
There are a wide variety of poles and tracks available, and I can source from a range of suppliers including Cameron Fuller, Opus and Alison Davies.